Is it possible to be a Friday everyday? At T.G.I. Friday it's a yes. They have a promo this April that targets the young professionals who are known to love a good meal and enjoy some chill time with friends after work.

A Week of Friday's is available everyday Mondays to Fridays and happy hour starts at 5PM until closing. More details about the menu and other delectable treats you can avail of can be found at Earthlingorgeous.com.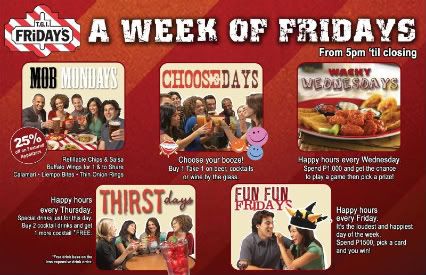 T.G.I. Friday's, one of the top of mind restaurants in the country, offers great popular American cusine, while everyone carefree sits back, enjoys the fun and celebration with good laughs mixed with good food, drinks and conversations. Trademarked as the resto' in red and white, Friday's was brought to the Philippine shores in 1993 by Bistro Group of Companies (Italianni's, Steakhouse, Outback and Fish & Co.), and for a decade and counting has served yet the best in dining, in the most upbeat and casual feel.